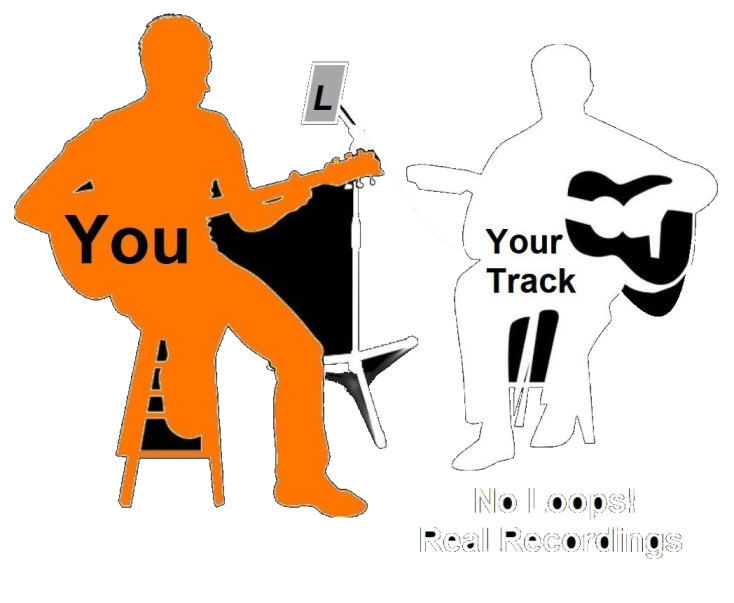 Unplugged Backing Tracks: play along with a "rhythm guitar-only" backing track
The name  "Guitar in a Box"  immediately gives the idea of what we are talking about. Not a band, but a guitar to use as an accompaniment.
Play while accompanied by a classic backing track made up of multiple instruments is often not an ideal solution. The audience sees a guitarist, not a band!
After years of performing live as a "one man band" I've decided to utilize backing tracks consisting of a single accompanying guitar. I think the result is much more credible and effective. In fact, two guitarists playing together are enough for an excellent musical performance. The problem is that it is neither easy nor practical to use a physical guitarist to accompany us.
The solution is to use a backing track made up of a guitar alone, authentically recorded, on which we can play solos or variations, perhaps even with the help of synchronized lyrics!
Rhythm guitar songs backing tracks. A unique collection to play live like two guitarists. Enough of the karaoke type bases, scarce real ones, exploit an accompaniment guitar track!
What are the guitar tracks
They are rhythm guitar only backing tracks, allowing you to focus on the main performance. The accompaniment guitar are bits of musical notes recorded and collected through the Band in a Box, allowing you to perform as if there were a second guitarist playing with you. This type of acoustic performance I've found is better appreciated by the public, who by now does are turned away from the typical karaoke type songs, demeaning value to the musician.
The tracks do not need to be modified as they are already used by me to play live, therefore extensively tested. They also come complete with synchronized lyrics. The songs have the corresponding sgu file.
In some cases, when necessary, there are soft percussions, such as tambourine or brushes, to better follow the rhythm (since there is no bass/drums).
Difference between my previous collection and the unplugged one
There are no bass, drums and keyboards, simply a rhythm guitar.
If you already have my previous sgu collections you could yourself create your own acoustic guitar song by silencing all the other tracks, saving in audio format and then adding the lyrics to have a song ready to play live through a player. It is a long commitment. In this collection you will find all the work done.
The tracks are ready in high quality audio format complete with synchronized lyrics. Hit the play button on your phone/player and go. Want an example? Watch the video!
How to change tonality?
On a song in audio format (wav, mp3) you cannot adjust the pitch. Instead, you must access the corresponding sgu BiaB file, make the desired changes, and save in audio format, combining the ready-made lyrics.
Different key version
For convenience, the collection contains a copy of most of the backing tracks in audio format in a version with a different key, for those who find the original tonality too high.
For example "Sultans of Swing" does not need a version in a different tonality, but "I Don't Wanna Miss a Thing" by Aerosmith probably does.
Audio Player
Attached at the collection is a free program for Android suitable for those who play live (with stops at the end of the song, etc.).
I suggest you to get any cheap android phone, even dated, such as the Samsung J2 or similar for example, and dedicate it to just playing the tracks with a program like this.
Attractive extra feature.
Great idea for anyone using a vocal harmonizier
Since the backing tracks are made up of a single guitar and not multiple instruments, it is possible to use a harmonizer connected to the backing track and not to your guitar playing live. In this way you will be able to harmonize your voice without errors, in a simple and automatic way.
In classic use with harmonizer, your guitar is connected to the harmonizer which works according to the sounds it receives.
Instead, your guitar playing is independent from the rest of the system. In which case, your audio player is connected to the harmonizer, which "hears" the chords of the backing track. Your voice can then be harmonized simply by activating the harmonizer pedal, without playing errors!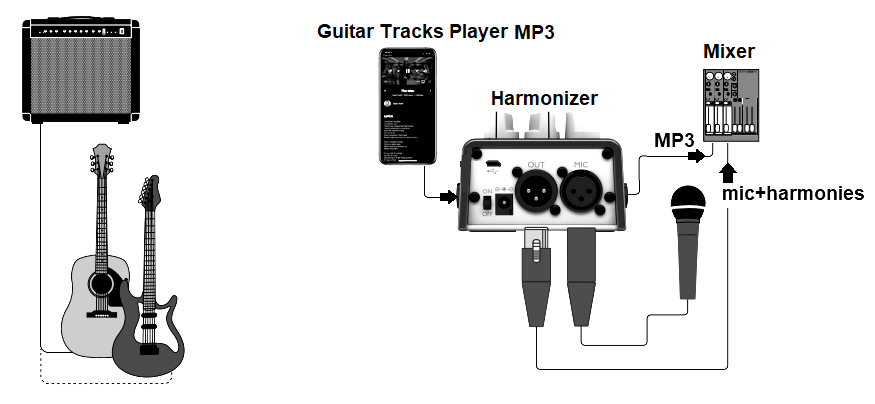 Your performance is therefore schematically presented as follows: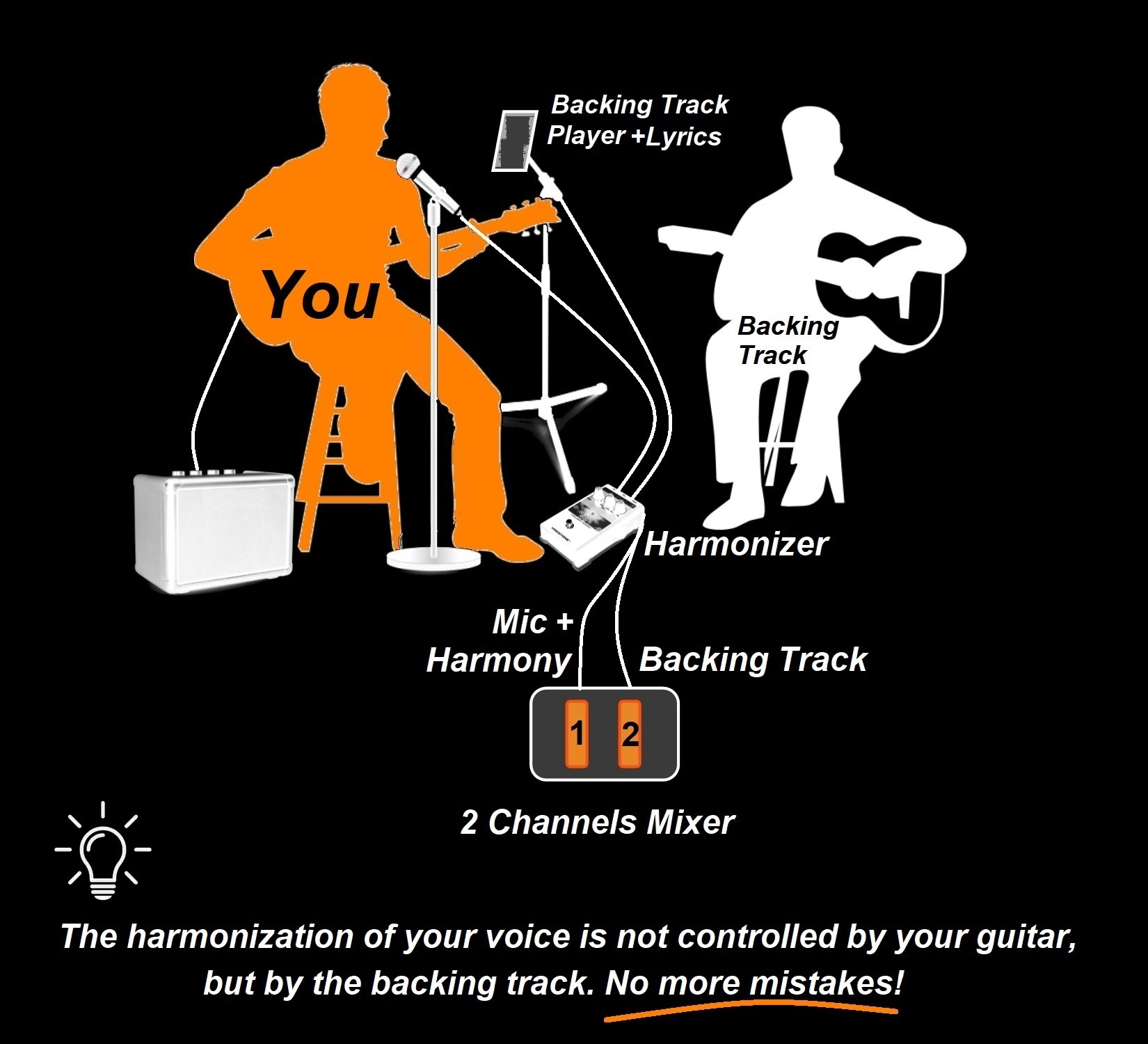 More about the vocal harmonizer https://www.theguitarband.com/vocal-harmonizer-with-band-in-a-box-backing-tracks/
What you will find in the collection
+ 116 files SGU
+ 120 AUDIO FILE IN NORMAL KEY + 120 FILE LRC LYRICS.
+ 52 AUDIO FILE IN DOWN KEY + 52 FILE LRC LYRICS.
Total size 4.9 GB. Download Size (RAR) 2.8 GB
Do you want detailed content? Check the FULL FILES LIST
I have prepared a video with examples for the tracks:
Free Music Player Android for Musicians!

An exclusive player for our live audience !
Similar programs such as this are not available on the web. Although there are various musical players online, it is challenging to find a suitable program for musicians that also provide automatic playback of their music/lyrics.
This APK player is an ideal complement to live performances with my ready-made Biab Backing tracks.
The program supports LRC lyrics and has the following essential functions for those who perform live.
1. Keep the screen on
2. The font size of the lyrics
3. Pause after each song
4. Highlight Lyrics Color
5. Normal Lyrics Color
6. Background Color
7. The text align mode of lyrics
8. Equalizer
9. Playlist creator
10. Folders:
a. Artist
b. Albums
c. Songs
d. Folder
e. Playlist
This free player must be requested from Giancarlo after purchase the package (contact@theguitarband.com)
Any questions? Write me, ggriscenko@gmail.com (Giancarlo)
Download Now 
With over 450 files on offer, with a decade worth of work behind this original and exclusive collection, I believe the price to be reasonable.
Only $ 79