Here is a complete compilation for those who want everything they need for their work with Band-in-a-Box and for any live performances.
These are ready-to-use audio files, encompassing a repertoire of songs in audio format with synchronized lyrics attached. You can play the songs using any audio player.

Furthermore, I'm also including a program for musicians to install on their Android devices.
⦁ AUDIO+LYRICS 415 Songs. Main Collection 4.6 GB (content list)


⦁ SGU 761 FILES (608+153)- 8 MB (content list)


⦁ BONUS 1 BiaB Audio Acoustic Normal (160 songs+lyrics) 5.2 GB (content list)


⦁ BONUS 2 BiaB Audio Acoustic Down Key (63 songs+lyrics) 1.8 GB (content list)


⦁ BONUS 3 Player Android for Musicians

This collection also includes all the SGU tracks that are part of the package, which you can acquire separately.

As part of a special promotion during this exceptional period, the acoustic collection designed specifically for acoustic performances is also included. (Here are the features)
This carefully curated collection represents years of dedicated work, resulting in an essential tool for any live guitarist.
Don't waste valuable time searching for backing tracks elsewhere—simply download our comprehensive collection, and you'll be well-equipped to easily create your favorite backing tracks or hit the stage.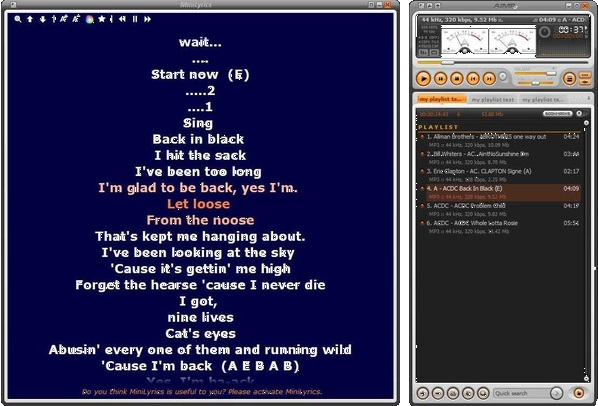 Free Music Player Android for Musicians!
With the dedicated Music Player Android app, exclusively available with the download, you can enjoy seamless playback of the audio songs and lyrics.
This innovative player offers a unique combination of convenience and versatility, designed specifically for live performances.
Unlike any other program available online, our APK player is specifically designed to cater to the needs of musicians, providing automatic lyrics.
This player seamlessly complements our ready-made Band-in-a-Box backing tracks, making it an essential tool for your live performances.
The program supports LRC lyrics and has the following essential functions for those who perform live.
1. Keep the screen on
2. The font size of the lyrics
3. Pause after each song
4. Highlight Lyrics Color
5. Normal Lyrics Color
6. Background Color
7. The text align mode of lyrics
8. Equalizer
9. Playlist creator
10. Folders:
a. Artist
b. Albums
c. Songs
d. Folder
e. Playlist
For further info, contact me on this email: ggriscenko@gmail (Giancarlo).
Remember that this proposal is exceptional. In addition to including audio songs with lyrics, I have also incorporated all SGU files (both normal and acoustic versions), an acoustic collection complete with lyrics and corresponding SGU files, as well as an integrated audio player. I have meticulously prepared all of this to facilitate working with Band in a Box and for live performances.
Download Now the Full Collection. Price $59 (now promotion / was $79
Payment Protected by Stripe Chargeback
Do you prefere PayPal? Contact ggriscenko@gmail.com (Giancarlo)
Discover the latest musical instruments on our music website on Amazon!
Explore the latest musical instruments on Amazon music store and support our channel at no extra cost to you! By purchasing any musical instrument through our affiliate link, you not only get top-quality gear but also contribute to our channel's growth and content creation.


Join our Telegram group: Band in a Box Backing Tracks. 
Join our Facebook group (download/share backing tracks): SGU BackingTracks