Backing tracks made with RealTracks only
Note: You don't need the Band in a Box program to play these backing tracks
TheGuitarBand.com: Your Source for Band-in-a-Box Backing Tracks and Templates

Welcome to TheGuitarBand.com, your go-to website for a wide range of Band-in-a-Box backing tracks and templates.
Before we dive in, please note that we do not promote or sell any software mentioned on this site, such as Band-in-a-Box or MiniLyrics. If you don't already have these programs, you can find them on the respective authors' official websites.
All the tracks available on our site are instrumental, devoid of vocals and solo parts, making them ideal for one-man band singer-guitarists like yourself.
With Band-in-a-Box, you have the flexibility to customize various elements such as instruments, keys, and more, without compromising the quality of the tracks. The program's integration of "Real Tracks," which are audio recordings performed by real musicians, ensures an authentic sound that surpasses artificial MIDI arrangements.
Feel free to explore our extensive collection of completed MP3 tracks available for free download. However, we understand that certain tracks may not perfectly match your specific requirements.
While most Band-in-a-Box backing tracks found online retain the original key, TheGuitarBand.com takes a slightly different approach by offering original and unique tracks that align with the original style, while also catering to vocalists who prefer lower keys.
Download your preferred songs and keep in mind that if you wish to customize them further, you will need the Band-in-a-Box program. With this program, you can create and modify "SGU" files, with similar potential to MIDI files but with enhanced capabilities.
You'll find a variety of SGU files readily available on our site, or you can opt for the premium collection, which offers a convenient single download of all the tracks.
Best of luck with your musical endeavors!
Giancarlo / Admin
---
What is Band in a Box?
Think of musicians who have recorded instrumental parts in different keys and musical genres. The BiaB program stitches these parts together according to your commands, resulting in a real-sounding backing track, as if it were made in a recording studio!
How To Play the BiaB Mp3. How to Edit the Lyrics.
If you download the free backing tracks you may be interested in knowing how to use them and how to edit the lyrics. Here a video guide:
This video can also be useful if you download the complete mp3 + lyrics collection.
To show the lyrics download the LRC software : Mini Lyrics https://www.crintsoft.com/
Easy video tutorials band-in-a-Box
Band in a Box difficult? Don't get distracted by too many Band in a Box functions.
To create your song you only need these buttons. Watch the video tutorials!
Many ".sgu" files are ready to be exploited as practice, and downloadable for free.
What are Backing Tracks
Backing Tracks are songs that contain musical accompaniment parts.
In these there are no melodies, leaving the soloist room to play, and possibly sing alongside it.
EXAMPLE OF BAND-IN-A-BOX BACKING TRACK
Eagles / Peaceful Easy Feeling.mp3
Normal Backing Tracks Types
1. AUDIO
All songs that have sounds and notes created by actual musical instruments.
Can be played by computers or smartphones, as the mp3 songs.
You will not be able to change the tonality, nor other parameters, as instrument type etc.
2. MIDI
It is an exclusively digital format and can be played only by some specific players, but also computers or smartphones that have installed the appropriate software.
The sounds are virtual, "electronic", although the midi will try to reproduce the real sounds.
You can vary virtually all of the parameters, tone, presence and type of instruments.
The audio quality is high, but the musical output can be poor as they attempt to imitate real life sounds, giving of an "artificial" tone, so they are not usually advisable for the musician who are using them as an accompanied piece.
Read: Mp3 or Midi?
Keys of the Backing Tracks
The key of a song is chosen according to vocal and instrumental requirements, as some arrangements make it better in different keys. Sometime they're even simpler to play on an instrument.
The original singers logically have vocal qualities which is often higher than the average.
The average musician will sometimes need to modify the original key according to how it suits them. In addition, man and woman have different vocal characteristics, and the same song originally sung by a man, will often be transposed into a different key by a female singer. There are numerous examples of covers in this respect.
The band-in-a-box backing tracks of this site are sometimes in different key than the original, as they are made for personal needs, that is to say to my own vocal requirements, that sometimes require one or two tones under the original, as well as for my daughter also, to accommodate a female voice.
Of course, whoever needs different keys of their own, will choose to make the songs themselves through Band-in-a-Box, or search for the "sgu" version.
Download your full sgu collection
How to make a track
There are multiple approaches to creating a backing track.
When you buy a video card, you'd often receive a free music editing software, if you have the skill to play various instruments, you may record these parts to an accompaniment.
For simplicity, and saving time, you can assemble tracks played by actual musicians with a suitable software. For this I use Band-in-a-Box (BiaB).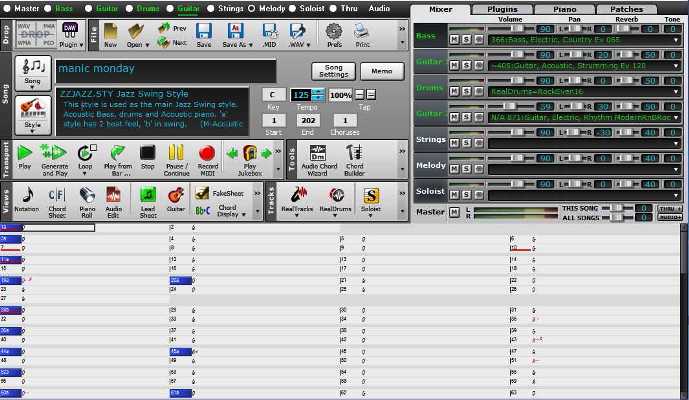 In addition to the program, you will need files that contain "RealTracks", so called by the BiaB.
After being satisfied with the music you've created through BiaB, set the time, notes, verse and chorus, instrumental parts etc. and finally export it, it will certainly not be identical to the original, but it can be a unique and interesting twist in and of itself.
Here you will find free backing tracks realized through band-in-a-box, and should you want to tweak them, you may do so through the BiaB program.
Read: Tutorials relating to the creation of BiaB backing tracks.
Have Band in a Box?
With my sgu files you can quickly create your own original and professional sounding repertoire. Here's how! (Apologies for the synthetic voice, my English would be hard to understand 🙂 )
Music players for live performance
Features required for an mp3 player
A good audio player must meets specific requirements for your live performances. Essential features needed to enhance your musical experience and keep your performances seamless and professional.
Easy Song Navigation: Choose an MP3 player that allows you to view the song list and effortlessly scroll through it while the program is playing. This ensures smooth transitions between songs without any disruptions.
Visible Play Button: Opt for a player with a clearly visible play button to avoid any accidental errors during your performance. Instantly start the reproduction with confidence.
Automatic and Readable Lyrics Display: For duos or singers who require lyrics during their performances, select an MP3 player that automatically and comfortably displays readable lyrics. Rest assured that all the songs provided include synchronized lyrics (mp3+lyrics) for your convenience.
Netbook Solution for Live Performances: Unless you require a professional-grade player that also displays lyrics automatically, consider using a small netbook (a compact laptop) as an excellent solution. It allows you to install player software such as Windows Media Player or AIMP, along with compatible lyrics software like MiniLyrics (refer to the Lyrics Tutorial).
Convenient Song Control: Ensure that your MP3 player allows you to scroll through playlists and start a song using the enter key or a USB numeric keypad. Program the keys for functions like search, startup, stop, and more, simplifying your performance workflow.
End of Song Reproduction: Avoid songs automatically moving on to the subsequent track. Choose an MP3 player that plays each song until its conclusion.
Silent Space and No Repeat: To avoid any issues, all the tracks provided have a minimum 30-second silence space at the end. This gives you ample time to search for the next song or stop the reproduction. Ensure your MP3 player has the option to disable repeat and autoplay random features.
Music Player on Android: If you prefer using a tablet or smartphone for your performances, explore the various free apps available on the Android platform (".apk" software). Look for players that support lyrics display, adding a karaoke-like element to your performance.
Simultaneous Lyrics Display and Search: One challenge arises when searching for the next track while the current song is in progress. Ideally, you need an MP3 player with two windows—one displaying the lyrics and the other for the search list. This enables seamless selection and immediate playback without interrupting the displayed lyrics.
If you're struggling to find the right player that meets these requirements, another option is to purchase the complete collection of SGU and MP3 files at an incredibly low price. Included as a gift is "The Music Player Android for Musicians," the player used for live performances.
"The Music Player Android for Musicians" is an exclusive player designed specifically for live performances. Unlike other online players, it caters to musicians by offering automatic playback of music and synchronized lyrics. It supports LRC lyrics and includes essential functions that complement performances with ready-made Band-in-a-Box backing tracks.
Unlock the full potential of your live performances with an MP3 player that meets your needs.
You must absolutely avoid autoplay random and repeat, which occurs whenever a music has concluded.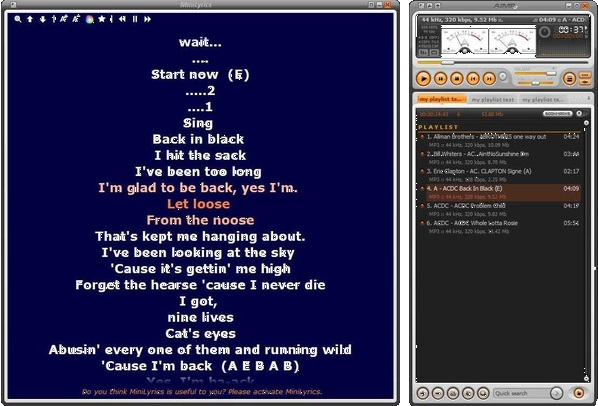 Music Player Android for Musicians
An exclusive player for our live audience !
Similar programs such as this are not available on the web. Although there are various musical players online, it is challenging to find a suitable program for musicians that also provide automatic playback of their music/lyrics.
This APK player is an ideal complement to live performances with my ready-made Biab Backing tracks.
The program supports LRC lyrics and has the following essential functions for those who perform live.
1. Keep the screen on
2. The font size of the lyrics
3. Pause after each song
4. Highlight Lyrics Color
5. Normal Lyrics Color
6. Background Color
7. The text align mode of lyrics
8. Equalizer
9. Playlist creator
10. Folders:
a. Artist
b. Albums
c. Songs
d. Folder
e. Playlist
This free player is included for free in the full collection.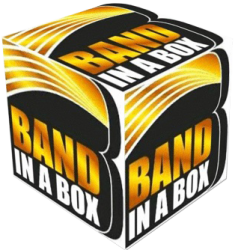 Discover the latest musical instruments on our music website on Amazon!
Explore the latest musical instruments on Amazon music store and support our channel at no extra cost to you! By purchasing any musical instrument through our affiliate link, you not only get top-quality gear but also contribute to our channel's growth and content creation.


Join our Telegram group: Band in a Box Backing Tracks. 
Join our Facebook group (download/share backing tracks): SGU BackingTracks