SGU Free Download (Band-in-a-Box files)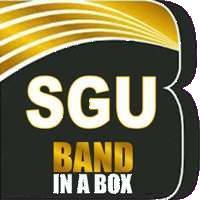 Download the sgu files and modify the track you prefer  (left click to download).
With Band-in-a-Box you will be able make any changes you want.


Note: Depending on the realtracks you own, there may be differences in settings.
Before listening to a .sgu song with BiaB, mute unnecessary tracks. In other words, leave only the most important tracks active, such as bass, guitar and drums, usually tracks 1, 3 and 4.
By default, all tracks are active, and if you don't make a selection, you can get an unnatural sound.
Download the following sgu backing track and open it with your Band in a Box. Following an mp3 audio, to hear the result after the application of some real tracks:
More sgu backing tracks free download (Full sgu collection here):
AEROSMITH I don't wanna miss a thing
BYRDS I'll feel a whole lot better
GARY MOORE Parisienne Walkways
GARY MOORE Still Got the Blues
JEFF HALEY While my guitar gently weeps
JOE COCKER With a little help of my friends
LOVIN' SPOONFUL Summer in the city

If you prefer backing tracks acoustic only, you can try these SGU files
What is a biab sgu file? How to open .sgu files?
The biab sgu file  is a multitrack song.  The ".sgu" is an extension (songname.sgu) associated with Band-in-a-Box.
To open a sgu file you will require the Band-in-a-Box software.
SGUs files are the "source" of the backing tracks.
If you want to change the key of the song, you need the original "sgu" file, created by Band in a Box.
BiaB SGUs will allow you to transpose, delete/add some track etc., with no loss in quality as the midi, but with live recordings.
Where does the sgu file come from.
If you have BiaB and you create your own tracks, get the sgu file by saving the song (saving the song does not mean exporting it, such as mp3/wav, in that case it would not be editable anymore).
If you do not have "Band in a Box", or you do not have the time or the desire to create your own pieces, you can download privately arranged mp3s, from this site.
If you download these, you will have to use them as they are, if you have the correct sgu file instead, you will be able make any changes you want, as with a midi file, with only limiting the number of RealTracks in your possession.
SGU is the extension of files that contain your relayed song with BiaB. These files are not playable with a music player, but only with the BiaB program.
Auto created songs are saved in a format called ".sgu", that of band-in-a-box software, which can also be exchanged between musicians, allowing modifications.
The sgu file can be opened by BiaB and modified as you like, key, instruments etc.
However, to play it live, it is not practical to use sgu themselves (search, lyrics, etc.)
To do so, it is more practical a media player.
The difference between SGU, MGU and MGX files
All these name extensions are files openable only with BiaB.
SGU and MGU are files that can contain RealTracks, while MGX are midi files.
Meaning of letters
If the song does not have a melody, it starts with an 'S' (eg SGU). If the song has a melody, the extension begins with an 'M' (eg MGU, MGX).
Specify better:
S.  The song does not have a melody.
G.  This is a song (G is always present in the BiaB files).
U.  The style is a user style.
M. The song has a melody.
X.  Midi files in a single track
You will not find MGU files on this site, as melody files do not serve the musician who use backing tracks, and they are performed live by the musician, as a vocal or solo instrument.
Note:
The files are in a compressed format (It is not possible to upload the .sgu file directly to my server for security reasons)
If your OS filter blocks the download, read HERE
How To Open a RAR file
Many are requesting more .sgu version of the BiaB backing tracks, to be able to modify the key and other parameters.  Uploading a complete and tidy list is hard work. On THIS PAGE, you can have access to all my SGU files.
Technical note (if you have Band in a Box): 
When playing the .sgu file don't forget to "mute" the instruments not needed. 

When you see a red square on the bar, click F5 to let you see the current settings.
I waiting for your suggestions, comments or questions (English, Italiano, Español, Français).
Giancarlo (John)

Discover the latest musical instruments on our music website on Amazon!
Explore the latest musical instruments on Amazon music store and support our channel at no extra cost to you! By purchasing any musical instrument through our affiliate link, you not only get top-quality gear but also contribute to our channel's growth and content creation.


Join our Telegram group: Band in a Box Backing Tracks. 
Join our Facebook group (download/share backing tracks): SGU BackingTracks