Enhance Your Performance with VOCAL HARMONIZER and acoustic backing tracks
Are you using a vocal harmonizer? Do you also incorporate backing tracks into your acoustic solo performances?
If so, this article is tailor-made for you! Say goodbye to pitch errors by harnessing the power of your harmonizer with backing tracks. Here's how:
1. Create backing tracks using Band-in-a-Box with just a guitar track or download ready-to-use audio files from my collection.
2. Connect the output of your player (not your guitar anymore!) to the Instrument input of your harmonizer.
3. Connect your microphone to the Mic input of the harmonizer.
4. Start playing your backing track and sing along.
5. the harmonizer button whenever you desire vocal harmony.
The harmonizer will follow the chord progression of the guitar in the backing track, ensuring flawless pitch throughout your performance. No more worries about tonal errors!
Discover how to effortlessly utilize a vocal harmonizer with "one-guitar only" backing tracks from Band-in-a-Box. Control harmonies without connecting your instrument. Enjoy a seamless setup and elevate your performance.
The Backing Track drive your harmonizer: no more mistakes!

It is finally easier to use an harmonizer if you have these backing tracks!
Find out more about backing tracks with only acoustic accompanying guitar: https://www.theguitarband.com/rhythm-guitar-backing-tracks-download/
With the unplugged backing tracks there is a different way of utilizing a vocal harmonizer.
Use a harmonizer to get vocal harmonies
Experience the ease and convenience of using a harmonizer, as it effortlessly records your voice and produces harmonies in real time. The harmonizer captures your incoming audio, generating harmonies at different pitches while retaining the original melody. With the backing tracks as your guide, you can explore and experiment with multiple harmonies simultaneously.
A guitarist usually connects his guitar to the harmonizer, which recognizes the chords and produces a copy of the singer's voice in one or more different keys. Example, singing in C, the harmonizer reproduces in real time your voice in F, or G, according to your settings.
Control the vocal harmonies with the backing tracks.
With these unplugged backing tracks you can use a vocal harmonizer using the guitar already registered in the backink track.
Just connect your audio player to the harmonizer, no longer your guitar to the harmonizer. The harmonizer recognizes the chords of the guitar played by the backing track, freeing you from the problem of a perfect guitar performance!
With these backing tracks you can exploit the harmonizer without worrying about hitting perfect chords.
Setup Your Harmonizer with Backing Tracks Player
To provide a practical example, here is a simple diagram illustrating the connections for a guitarist performing solo with Band-in-a-Box backing tracks: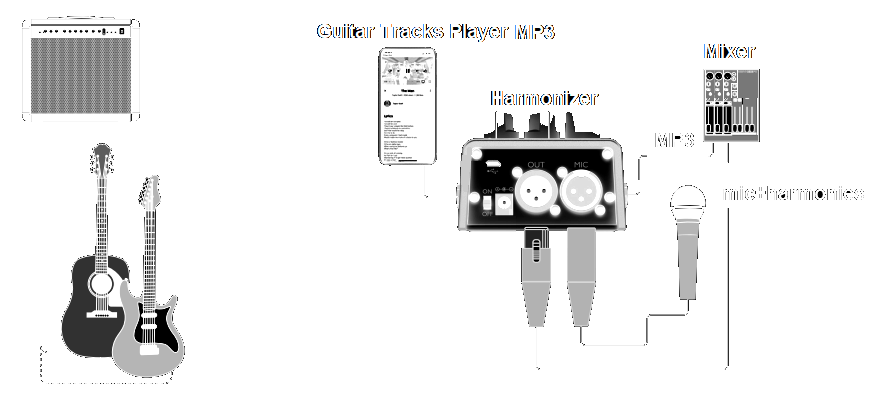 Find out how acoustic backing tracks work and watch the video examples
Discover the latest musical instruments on our music website on Amazon!
Explore the latest musical instruments on Amazon music store and support our channel at no extra cost to you! By purchasing any musical instrument through our affiliate link, you not only get top-quality gear but also contribute to our channel's growth and content creation.


Join our Telegram group: Band in a Box Backing Tracks. 
Join our Facebook group (download/share backing tracks): SGU BackingTracks