Brilliant! With "one-guitar only" backing tracks you can control a vocal harmonizer
(without connecting your instrument)
How does it work. The realtrack guitar of the backing track controls the vocalizer. No more mistakes!

VOCAL HARMONIZER with the unplugged Band-in-a-Box Backing Tracks.
It is finally easier to use an harmonizer if you have these backing tracks!
Find out more about backing tracks with only acoustic accompanying guitar: https://www.theguitarband.com/rhythm-guitar-backing-tracks-download/
With the unplugged backing tracks there is a different way of utilizing a vocal harmonizer.
A harmonizer records your voice live and harmonizes you as you are singing. It picks up incoming audio and generates various harmonies at different pitches. The harmonizer allows you to hear the original melody and produces one or more harmonies at the same time.
A guitarist usually connects his guitar to the harmonizer, which recognizes the chords and produces a copy of the singer's voice in one or more different keys. Example, singing in C, the harmonizer reproduces in real time your voice in F, or G, according to your settings.
Control the vocal harmonies with the backing tracks.
With these unplugged backing tracks you can use a vocal harmonizer using the guitar already registered in the backink track.
Just connect your audio player to the harmonizer, no longer your guitar to the harmonizer. The harmonizer recognizes the chords of the guitar played by the backing track, freeing you from the problem of a perfect guitar performance!
With these backing tracks you can exploit the harmonizer without worrying about hitting perfect chords.
Harmonizer setup with backing tracks player
Here is an example of connections for a guitarist who plays alone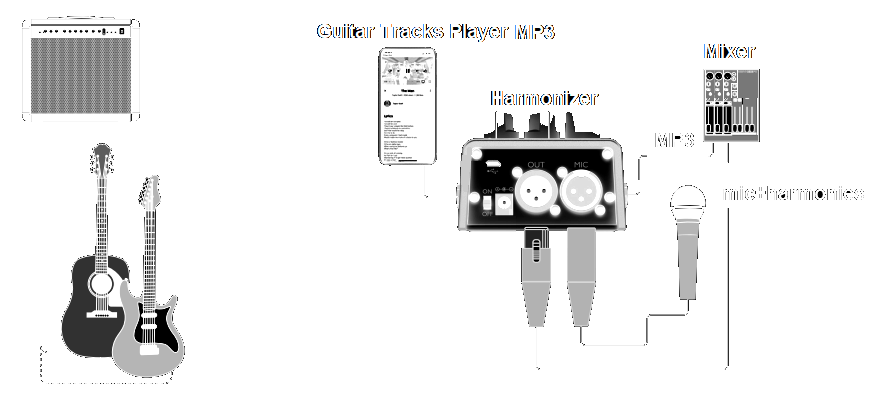 Find out how acoustic backing tracks work and watch the video examples