Band-in-a-Box: Your Ultimate Music Accompaniment Tool
If you're a music enthusiast or aspiring musician, you've probably heard about Band-in-a-Box. But for those who are new to the world of music production, let me introduce you to this amazing software that can revolutionize your music-making journey.
What is Band-in-a-Box?
Band-in-a-Box is a powerful music accompaniment software developed by PG Music Inc. It's not just your average backing track generator; it's an entire virtual band at your fingertips!
The software provides you with realistic, high-quality accompaniments for your musical ideas. Whether you're a singer, songwriter, instrumentalist, or music producer, Band-in-a-Box can elevate your creativity to new heights.
Key Features and RealTracks
One of the standout features that sets Band-in-a-Box apart is its RealTracks technology. RealTracks are not just generic MIDI backing tracks; they are actual recordings of top studio musicians playing along with your music. These RealTracks cover a wide range of instruments and genres, giving you an authentic and professional sound to accompany your performances.
The RealTracks cover everything from drums, bass, and guitar to saxophone, piano, strings, and more. These recordings capture the nuances and human-like feel that MIDI tracks often lack, making your compositions sound incredibly lifelike.
Getting Started
Now that you're intrigued, let's talk about how to get started with Band-in-a-Box. First, you'll need to purchase the software from the PG Music website (we are not affiliates). They offer various versions to suit your needs, including Windows and Mac compatibility.
Once you have the software installed, it's time to unleash your creativity. Simply input your chord progressions, melody, or even use the built-in Auto Harmonizing feature, and Band-in-a-Box will generate the perfect accompaniment for you. You can experiment with different styles, tempos, and instruments until you find the perfect arrangement for your song.
Don't worry if you're new to music theory or composing; Band-in-a-Box is designed for users of all skill levels. Its intuitive interface and user-friendly features make it easy to create professional-sounding music without the need for extensive knowledge.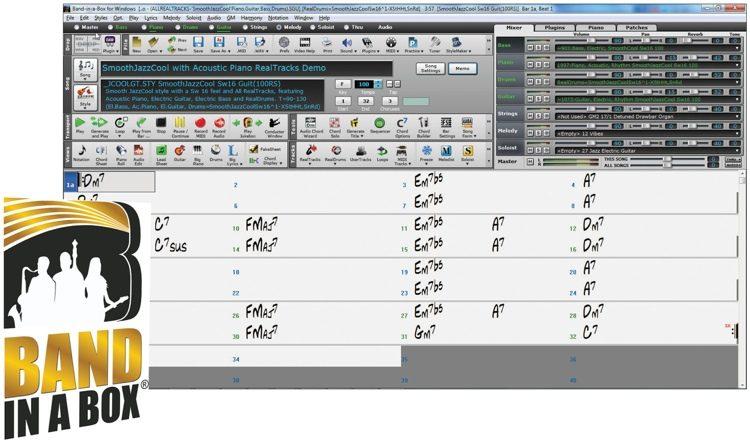 Practice and Performance
Band-in-a-Box is not just for composing; it's an excellent practice tool too. Use it to practice your instrument, improvise, or jam along with the virtual band. The RealTracks will keep you inspired and motivated, as you'll feel like you're playing with real musicians.
Once you've crafted your masterpiece, you can export your composition as audio or MIDI files, ready for sharing, further editing, or even full-scale production in a Digital Audio Workstation (DAW).
Backing Tracks Download
If you're short on time or prefer ready-made tracks, visit theguitarband.com for a treasure trove of free downloadable backing tracks and a vast collection of SGU format templates. 
Conclusion
In conclusion, Band-in-a-Box is a game-changer for musicians and songwriters of all levels. Its RealTracks technology brings a level of realism and authenticity that sets it apart from other accompaniment software. Whether you're creating, practicing, or producing music, Band-in-a-Box will be your faithful companion throughout your musical journey.
So why wait? Dive in and start making music magic today!
Discover the latest musical instruments on our music website on Amazon!
Explore the latest musical instruments on Amazon music store and support our channel at no extra cost to you! By purchasing any musical instrument through our affiliate link, you not only get top-quality gear but also contribute to our channel's growth and content creation.


Join our Telegram group: Band in a Box Backing Tracks. 
Join our Facebook group (download/share backing tracks): SGU BackingTracks