Enhance Your Live Acoustic Performances with Professional Acoustic Backing Tracks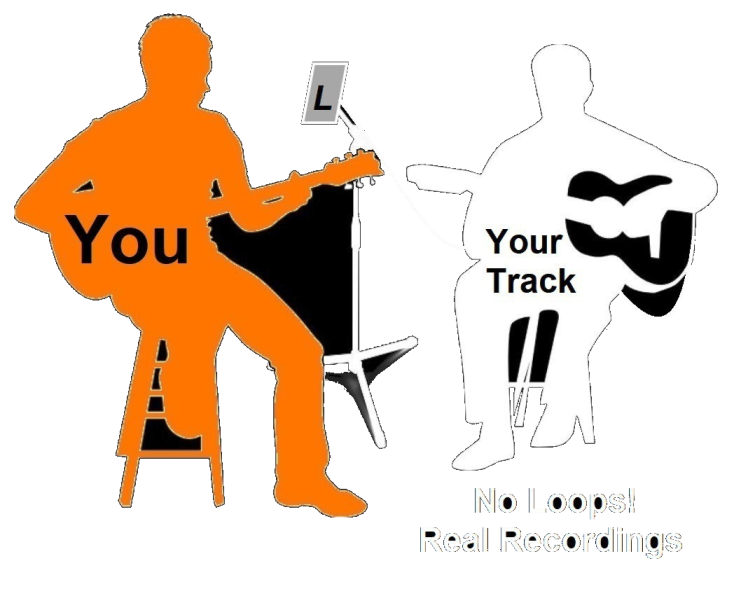 Are you a live acoustic guitarist looking to elevate your performances? Having a second guitarist can greatly enhance your sound, allowing you to play solos and create a fuller musical experience. However, not all venues are willing to cover the cost of an additional musician.
Fortunately, there's a solution that can replicate the presence of a second guitarist and enrich your sound without the need for another performer.
Acoustic Guitar backing Tracks
Introducing acoustic backing tracks specifically designed for live performances. These tracks enable you to seamlessly blend your instrument with a virtual second guitarist, allowing you to perform solos and more, while freeing yourself from the constraints of continuous and monotonous guitar accompaniment.
The acoustic backing tracks I use and offer here go beyond traditional backing tracks. They are intended to be played along with your instrument, creating a dynamic interplay that elevates your performance to new heights.
These tracks are perfect for acoustic guitarists who want to add a professional touch to their performances, as well as those who are less proficient with the instrument but still desire to sing along with top-notch acoustic guitar accompaniment.
Elevate Your Live Performances with Unplugged Backing Tracks: Play Along with Rhythm Guitar-Only Tracks
---
Acoustic Backing Tracks, a compilation of unplugged backing tracks designed specifically for the "one-man band" concept.
Playing along with traditional backing tracks that feature multiple instruments may not always provide the ideal solution. Audiences see only a guitarist on stage, not a full band!
After years of honing my craft as a solo performer, I've discovered that utilizing backing tracks consisting of a single accompanying guitar yields far more credible and effective results. With just two guitarists playing together, you can deliver an exceptional musical performance. However, the logistics of having a physical guitarist accompany you can be challenging and impractical.
That's where our unrivaled backing tracks come in. Each track features an authentic and meticulously recorded rhythm guitar, allowing you to play solos, variations, and even synchronize lyrics effortlessly.
Discover our collection of rhythm guitar songs backing tracks, carefully curated to provide a unique live experience that emulates the sound of a second guitarist.
Here a video with examples for the tracks:
It's time to move beyond karaoke-style backing tracks and embrace the full potential of an accompaniment guitar track that truly enhances your performance.
Key features of our unplugged backing tracks include:
Realism and Authenticity: Our tracks capture the true essence of a rhythm guitar, providing an immersive experience for both you and your audience.

Versatility for Solo Performers: With our backing tracks, you can effortlessly transform your live shows into captivating performances that emulate the dynamics of a two-guitar setup.

Seamless Integration: Each track is meticulously crafted to ensure smooth integration with your instrument, enabling you to showcase your skills and add your personal touch.

Elevate Your Vocal Performances: Singers can benefit from the rich accompaniment of an authentic rhythm guitar, enhancing the overall impact of their vocals.
It's time to break free from the limitations of traditional backing tracks. Step up your live performances by incorporating our unplugged backing tracks into your repertoire. Visit our website today to explore our unique collection and unlock the full potential of your solo performances.
Join the community of "one-man band" musicians who have embraced the power of our backing tracks. Don't settle for anything less than the best.
Elevate your live shows and captivate your audience like never before. Get started now!
Check out the song list:
BIAB Acoustic Audio+Lyrics Collection-154-FILES
You can take a listen to a sample of songs on the free download page
Don't let the limitations of venue budgets or your instrumental proficiency hinder your musical aspirations.
With the acoustic backing tracks, you can create a richer, more engaging live acoustic experience. 
Difference between my previous collection and this acoustic one
There are no bass, drums and keyboards, simply a rhythm guitar.
If you already have my previous sgu collections you could yourself create your own acoustic guitar song by silencing all the other tracks, saving in audio format and then adding the lyrics to have a song ready to play live through a player. It is a long commitment. In this collection you will find all the work done.
The tracks are ready in high quality audio format complete with synchronized lyrics. Hit the play button on your phone/player and go. Want an example? Watch the video!
How to change tonality?
On a song in audio format (wav, mp3) you cannot adjust the pitch. Instead, you must access the corresponding sgu BiaB file, make the desired changes, and save in audio format, combining the ready-made lyrics.
All songs have the corresponding sgu file included.
Different key version
For convenience, the collection contains a copy of most of the backing tracks in audio format in a version with a different key, for those who find the original tonality too high.
For example "Sultans of Swing" does not need a version in a different tonality, but "I Don't Wanna Miss a Thing" by Aerosmith probably does.
Attractive extra feature.
Great idea for anyone using a vocal harmonizier
Since the backing tracks are made up of a single guitar and not multiple instruments, it is possible to use a harmonizer connected to the backing track and not to your guitar playing live. In this way you will be able to harmonize your voice without errors, in a simple and automatic way.
In classic use with harmonizer, your guitar is connected to the harmonizer which works according to the sounds it receives.
Instead, your guitar playing is independent from the rest of the system. In which case, your audio player is connected to the harmonizer, which "hears" the chords of the backing track. Your voice can then be harmonized simply by activating the harmonizer pedal, without playing errors!
Your performance is therefore schematically presented as follows: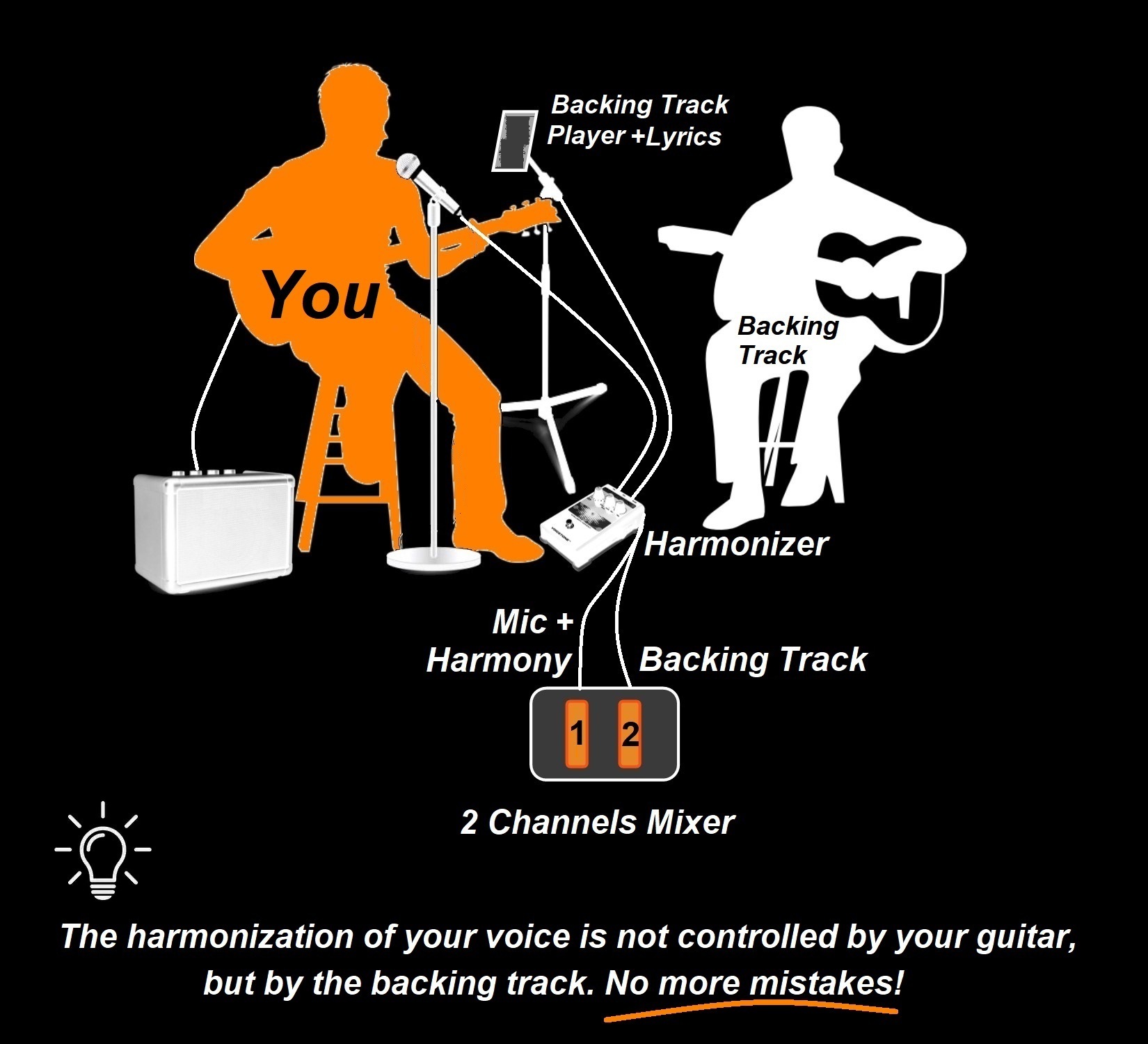 More about the vocal harmonizer https://www.theguitarband.com/vocal-harmonizer-with-band-in-a-box-backing-tracks/
What you will find in the collection
+ 154 files SGU
+ 160 AUDIO FILE IN NORMAL KEY + 160 FILE LRC LYRICS.
+ 63 AUDIO FILE IN DOWN KEY + 63 FILE LRC LYRICS.
Total size 7 GB. Download Size (RAR) 4 GB
 Check the  FILES LIST
Free Music Player Android for Musicians!

An exclusive player for our live audience !
Similar programs such as this are not available on the web. Although there are various musical players online, it is challenging to find a suitable program for musicians that also provide automatic playback of their music/lyrics.
This APK player is an ideal complement to live performances with my ready-made Biab Backing tracks.
The program supports LRC lyrics and has the following essential functions for those who perform live.
1. Keep the screen on
2. The font size of the lyrics
3. Pause after each song
4. Highlight Lyrics Color
5. Normal Lyrics Color
6. Background Color
7. The text align mode of lyrics
8. Equalizer
9. Playlist creator
10. Folders:
a. Artist
b. Albums
c. Songs
d. Folder
e. Playlist
This free player must be requested from Giancarlo after purchase the package (contact@theguitarband.com)
Any questions? Write me, ggriscenko@gmail.com (Giancarlo)
Download Now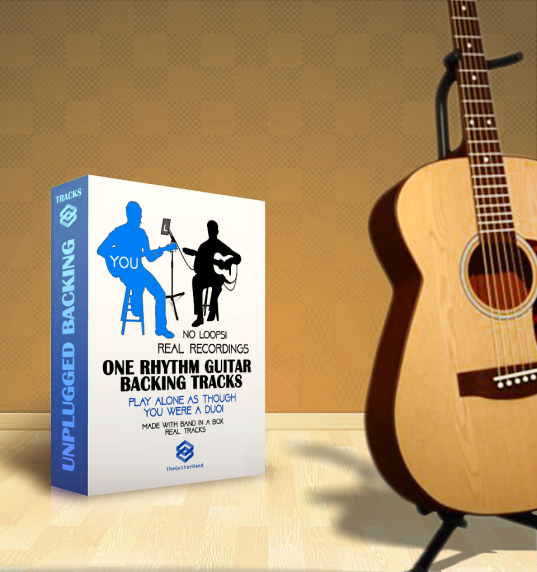 BIAB ACOUSTIC AUDIO+LYRICS 598 Files 223 songs (160 standard key + 63 down key+ lyrics)+Player 7 GB.  Free the BiaB SGUs of all songs.   Only $49(*)
Attention. This collection is currently being offered also as a bonus promotion in the Band in a Box Audio+SGU Main Collection!
Do you only have PayPal? Ask for a payment to ggriscenko@gmail.com
Discover the latest musical instruments on our music website on Amazon!
Explore the latest musical instruments on Amazon music store and support our channel at no extra cost to you! By purchasing any musical instrument through our affiliate link, you not only get top-quality gear but also contribute to our channel's growth and content creation.


Join our Telegram group: Band in a Box Backing Tracks. 
Join our Facebook group (download/share backing tracks): SGU BackingTracks