Band in a Box RealTracks: Download your mp3 backing track.
Are you looking to transpose the MP3 backing track with no loss in quality? Then you'll need the "SGU" File. Band-in-a-Box backing tracks in different keys.
BiaB is not difficult. Get started now with the easy Tutorial.
Note: A few of the tracks are under the artist's name, others are below the title of the song.
The fastest way to look for them is to use the search box.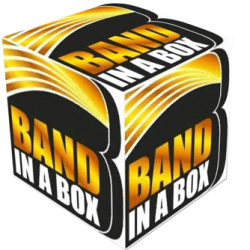 Example of  Band in a Box Backing Track:
Eagles / Peaceful Easy Feeling.mp3
The Songs:
Exclusively devoted to the backing tracks realized with Band in a Box,  free for download
High Quality Mp3 / Bitrate 320KB/sec. , recorded with Audacity
Tutorials relating to the creation of these tracks and more.
How to play live the backing track created by yourself (or downloaded from this site)
 Are you a musician? If you need this, read the tutorials

Showing lyrics on tablet
TheGuitarBand.com: Purpose of the site
Premise: I state that I do not promote nor sell the software that are described in this site, as Band-in-a-Box or MiniLyrics. These programs, if not already available, will be sought in the respective home pages of the authors.
The purpose of this site is to provide ready-to-use backing tracks with Band in a Box. All the tracks are without vocals and soloists, all suitable for the one man band singer-guitarist.
Band-in-a-Box allows you to change or switch instruments, key, etc., without deteriorating quality, as well as the advantage of the final (.SGU) controls the "Real Tracks", ie sound bytes played by real musicians, and nothing "artificial" as the midi.
Here you are able to free download all mp3s that have been completed. However, certain cases could imply that some components of the work doesn't fit your requirements.
Through the web, most of the backing tracks contain the original key. TheGuitarBand.com will deviate slightly, by offering something more original and unique (in keeping with the original style).
The backing tracks have the tonality to be more suitable for those who, (like me or any some female vocals), require down keys . A couple of tones lower than the original for example.
Try, therefore, to download whichever songs you prefer, and remember that should you wish to customize them, you will require the Band in a Box program, in which will allow you to create a file called "SGU", that then can amended such as a midi.
Here you will find various SGUs at the ready, or get them all in one with a Single Download.
Best of Luck
Giancarlo / Admin