Better than Band in a Box? Remove vocals from any songs, for free!
A new free program with artificial intelligence for creating customized backing tracks. 
It is an online program, no installation. The song is saved after editing it to your computer.
We will also analyze the Pros and Cons of our beloved BiaB software.
How It Works
AI-Powered Music Separator
This app allows to separate music into an individual streams such as vocal, bass, percussion, and lets you rebalance their individual volumes. This is the simplest way to get multitracks from any song.
Once you choose a song, artificial intelligence will separate music into stems: vocals, bass, drums, others. Processing usually takes about 1 minute.
In many cases (like mine) Band in a Box is used to create customized backing tracks, with the desired instruments, styles, key and tempo.
In some cases this track remover program can be used for some needs, for example when you can't get a satisfactory song with Band in a Box, and instead you want a backing track faithful to the original.
The two most important parts of the program are Vocal Remover and Splitter
Vocal Remover
Separate voice from music out of a song free with powerful AI algorithms
The program is easy to use, upload the file you want to modify and after a few seconds download the version you are interested in, for example the one with only the instrumental part.
Here is an example of songs with the vocal track removed.
THE BEATLES: Honey Don't
DIRE STRAITS: Romeo and Juliet
If you also want to eliminate other instruments (for example you don't want the lead guitar or maybe you just want bass and drums) you have to use the other version of the program, "Splitter", whose functioning is similar.
Splitter
Split music into separated parts with AI-Powered algorithms
Here is an example of a Motown song (Love Train) . This is the original before the editing:
Here is an example of the song with only the bass and drums tracks left:
https://vocalremover.org/splitter-ai
Video test and tutorial
Pros and Cons compared to Band in a Box
Pros:
Immediate creation of the backing track, without the vocal part.
Instrumental part faithful to the original.
Good sound quality.
Does not require installation.
It's free.
Cons:
The quality of the backing track is not comparable to Band in a Box.
Some instruments, such as the guitar, cannot be deleted individually, unless you use only the bass and drum parts with the Splitter program.
Being an audio file, any modification of the tonality leads to a deterioration of the sound quality. This doesn't happen with Band in a Box, because the tracks are recorded by real musicians in all keys.
More
The programs also have other functions. We mention them here:
⦁ Audio Speed and Pitch Changer
Changes pitch and tempo of the song by adjusting musical key and bpm sliders.
Note: affects the quality of the audio, it is not recommended to change more than one tone.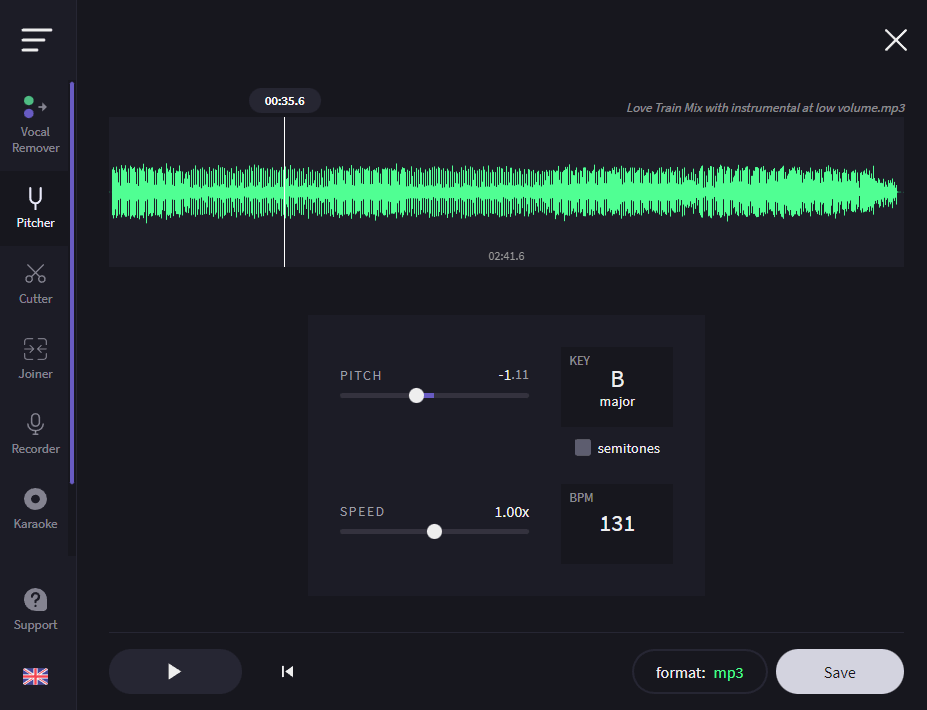 ⦁ Audio Cutter
Free editor to trim and cut any audio file online.
⦁ Audio Joiner
Join multiple audio tracks into one. Choose audio files you want to merge
⦁ Sing & Song Key and BPM Finder
Analyzes music and finds Key, Scale and BPM for any songrecord, tune voice and save complete song. Choose karaoke track you want to sing with
⦁ Recording Voice Over a Song.
Sing & record, tune voice and save complete song. Choose karaoke track you want to sing with.
CONCLUSION
It can be used to replace Band in a Box in some cases, such as when for example our creation deviates too much from the desired version, or you have little time available or when you don't have the right RealTracks.
Remember that on the theguitarband.com site you will find many free backing tracks (.sgu) ready to download, and also an upgrade with a complete collection of over 600 songs at a price accessible to anyone.
Update
Here's another trick to make a backing track even from a karaoke version using artificial intelligence!  Backing Track from Karaoke with AI
Discover the latest musical instruments on our music website on Amazon!
Explore the latest musical instruments on Amazon music store and support our channel at no extra cost to you! By purchasing any musical instrument through our affiliate link, you not only get top-quality gear but also contribute to our channel's growth and content creation.


Join our Telegram group: Band in a Box Backing Tracks. 
Join our Facebook group (download/share backing tracks): SGU BackingTracks